Wire Glue Projects Anyone Can Build
No-Solder Construction with Wire Glue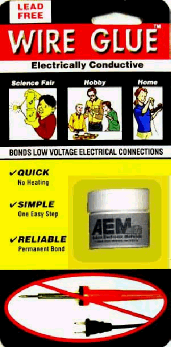 Wire Glue Projects Anyone Can Build at Home
Wire Glue utilizes the latest advances in microcarbon technology to bring you a highly conductive glue at a fraction the price of competitive products which use precious metals.
Intended for hobby and repair applications, Wire Glue is the first in a series of adhesive products based on microcarbon from Anders. In development are epoxies and other adhesive systems with unsurpassed durability and strength yet they will retain the low cost attributes of Wire Glue.
A better conductive adhesive technology at a better price brought to you by the Anders Products Division of Idolon Technologies.
Wire Glue-built super fringe TV antenna that you can build saved the day for an elderly shut-in stranded in the deep wood of Northern New England
Learn the way this antenna was built and how you can make your own.
Plus Penny shows you how TV antennas can be connected together to increase their range
AM Broadcast Band DX Loop Antenna
Sports Radio from Distant Places
Night Time BCB DX
Basement & Office Reception
Camping & Travel
Makes Even a Weak Receiver Work Like and Expensive Set
Learn Basic Electronics
Repair Surface Mount Boards without Soldering
Watch this video to learn how you can repair surface mount boards without soldering.
Contact Us Today With Your Questions and Ideas